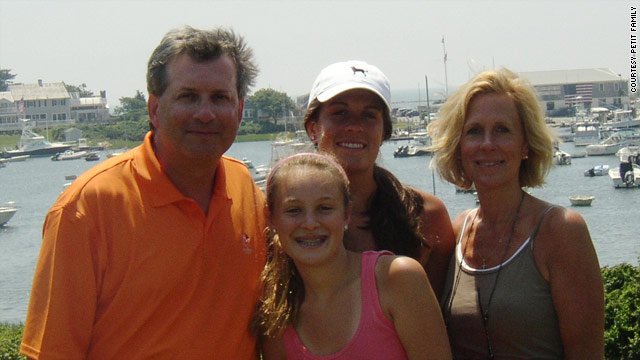 Dr. William Petit, shown with wife Jennifer Hawke-Petit and daughters, Michaela and Hayley, was the only survivor.
VIA CNN.com:
A Connecticut doctor whose wife and two daughters were killed in a 2007 home invasion took the stand Tuesday to testify against one of the accused killers, recalling horrific details of being beaten and tied up by his alleged captors while fearing for the well-being of his family.
William Petit, testifying on the trial's second day in New Haven Superior Court, calmly relayed to an attentive jury the events leading up the invasion.
Prosecutors allege that Steven Hayes, 47, and Joshua Komisarjevsky, 30, broke into the Petit family's home in July 2007. The men are said to have beaten up Petit, strangled his 48-year-old wife, Jennifer Hawke-Petit, and set the home ablaze. The couple's two daughters, Hayley, 17, and Michaela, 11, died of smoke inhalation.
The two paroled felons are charged with capital murder, kidnapping, sexual assault, burglary and arson. They both could face the death penalty if convicted.
Hayes is accused of raping Hawke-Petit, and prosecutors have charged Komisarjevsky, who will be tried separately, with sexually assaulting Petit's 11-year-old daughter.
July 22, 2007, began with Petit, his wife and Michaela attending church, Petit testified Tuesday. Hayley was just returning home that day from a weekend visiting with friends. Petit then played golf with his father while the girls went to the beach.
The plan, Petit said, was for Michaela to help her mother cook dinner that night.
"Michaela loved to cook," said Petit, who was wearing a heart-shaped Petit Family Foundation pin on his lapel.
The family finished dinner and the girls settled into the family room to watch "Army Wives"; Petit fell asleep in the sun room while reading the Sunday paper, he said.
The next thing he remembers, he said, was "thinking or feeling 'ow, ow, ow!'" as blood ran from a gash on his head.
"I sort of awoke in a daze. … The next thing I knew I was seated on the middle of the sofa, with my head down (and) there was something warm running down the side of my face," he testified. "I saw two people standing in front of the sofa, one in front and one slightly to the rear … and the one in the rear holding a gun, down and to his side."
While Petit said he could not clearly see the gun, he could see its form and shape, adding that "it appeared to resemble a 9 mm semiautomatic gun."
Prosecutor Michael Dearington produced a gun as evidence and Petit confirmed "that gun is consistent with the shape of the gun I saw."
Petit testifed that the suspects told him to lie down on the couch "and tied my hands at the wrists and my feet at the ankles" and covered his head with an unidentifiable piece of fabric.
"I heard one of them say, 'If he moves, put two bullets into him," he added.
Eventually, the suspects led him, with his head still covered, to the basement.
"I heard nothing from Jennifer, Hayley, or Michaela. … I did not know where they were in the house, for the most part," he said.
Once he was taken to the basement, Petit was bound to a support pole by a rope around his chest and waist, his hands still bound with plastic zip ties.
"I would sort of go in and out of it, and slide down the pole," he testified. "My body weight sliding down made my body feel better. … Eventually I was able to get the rope on my hands untied, and break the plastic. But I was not able to undo my feet."
Petit recalled that earlier in the ordeal, one of the suspects asked where the family kept their safe.
"I said we had no safe," he testified, adding that "much later on, I heard Jennifer … say that she would need to get dressed and need her checkbook or my checkbook to go to the bank."
A bank teller at a local Bank of America branch had testified Monday that Hawke-Petit asked to withdraw $15,000, telling the woman she needed the money "because she and her family were being held hostage at her house."
Petit said that for the most part "it was very quiet" while he was trapped in the basement, but at one point he heard "three loud noises, like someone was throwing 20- or 30-pound sacks on the living room floor."
"I heard moaning and the thumps, and may have yelled out 'hey!'" he said. "And a voice yelled, 'Don't worry, it'll be all right in a couple of minutes.' But there was definitely a change of voice . . . more sinister."
Fearing for his family's safety, Petit, still bound by his feet, hopped to the basement door.
"I just thought time was of the essence, and I needed to get help," he said, telling how he hopped up the basement stairs and headed to the house of his neighbor, Dave Simcik.
"I started to crawl, but that wasn't very efficient, so I started to roll — the whole time I was yelling 'Dave, Dave!' … I rolled over, with my feet still tied, banging on his garage door, hoping he would hear. The garage door went up, and Dave said 'Can I help you, sir?', and I said 'Dave, it's me, Bill, call 911!'"