A civil rights probe into Fort Bend ISD had concluded that black students were six-times more likely to receive out-of-school suspensions than white students and four more times as likely to receive in-school suspensions according to the U.S. Department of Education.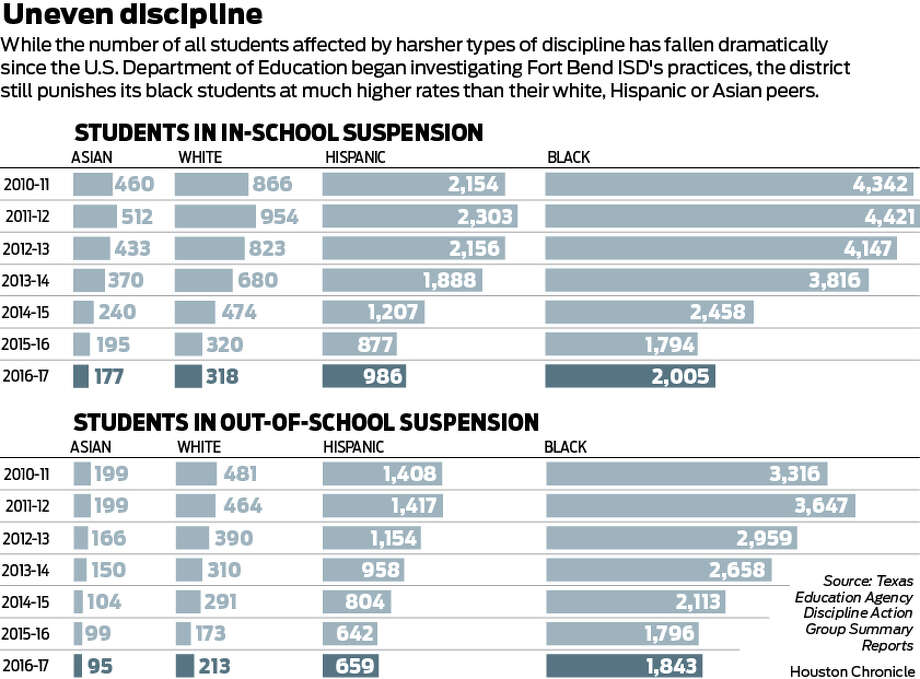 RELATED: Fort Bend Sheriff Holding Classes on Internet Safety
RELATED: Back To School Dates For HISD And Other School Districts
"I don't think we're discriminating, but that's not to say there are not isolated cases that need to be addressed," Fort Bend ISD Superintendent Charles Dupre told the Houston Chronicle. "The point I'm trying to make is that there's nothing hidden. Everything they said or identified, we also identified and are working on to address."
Per the report, discipline rates in the 72,000-student district have fallen significantly since Dupre became superintendent in April 2013. The number of students placed on out-of-school suspensions dropped by half, from 5,876 in 2011-2012 to 2,891 in 2016-2017, according to the Texas Education Agency. Students given in-school suspensions dropped from 8,420 students to 3,595 during the same period.
"Among their findings: Data analysis showed black students who were slapped with dress code violations at Elkins High School were nearly twice as likely to receive in-school suspensions than their white peers. While a black student at Quail Run Middle received one day of in-school suspension and one day of out-of-school suspension for making a derogatory statement, a white student accused of the same infraction received only a parent conference and a notation that the student will "think before he speaks." Of 14 white students referred to Sugar Land Middle administrators for first-offense tardiness, only one was given detention. Of 17 black students sent to the office for the same infraction, six were given detention slips."
The study took place over a six year period through a collection of visits to Fort Bend campuses and interviews.
Join Our Text Club To Get The Latest Music, Entertainment, Contests And Breaking News On Your Phone
IMAGE: Houston Chronicle
Also On Majic 102.1: